As part of its all-in-one standard comprehensive service, Biopuremax surveys the customer's requirements, performs dimensioning and fabrication, provides FAT, on-site installation, SAT and DQ-IQ-OQ validation and documentation.
Biopuremax provides a standardized package system for supplying media & chemical free RO feed water without the need for any additional treatment.
Full hot water sanitization capability gives the Biopuremax system a unique advantage: the removal of all biofilm and viable organisms through an 80°-90°C hot water cycle. Biopuremax provides FAT, SAT and DQ-IQ-OQ validation and documentation as part of its standard comprehensive service.
All in One -
One Procces for your Biopuremax™
1
Size BPM per client needs
Biopuremax™ unit can be designed to fit any
water treatment system capacity
2
HIGH FABRICATION STANDARDS
Biopuremax™ system is manufactured
according controlled procedures and after costumer design approval
3
FAT
Wet Factory Acceptance Test performed
per a pre-approved protocol
4
FAST INSTALLATION AND START UP
The system is based on pretreatment and
production skids that can be quickly installed and connected to utilities
5
SAT/COMMISSIONING
Biopuremax™ systems are supplied with full
SAT/commissioning package
6
VALIDATION
Full validation package for the system
available
Biopuremax is the ultimate pure water system solution: it is an environmentally friendly, clean, simple, reliable and effective way of supplying chemical free hardness reduced water for use as RO feed water without the need of any additional treatment.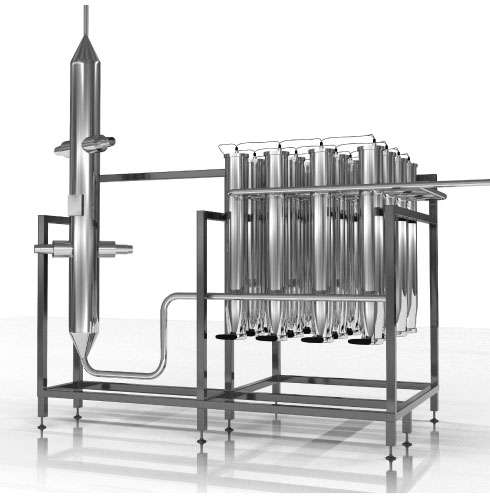 Quality & Compliance
Validation Package
FDA Requirements
CGMP Requirements
Latest USP and EP Standards
Options
GAMP 5
CFR 21 part 11
Free Chlorine / Chlorine Dioxide / Ozone in City Water Tank
Storage & Distribution Loops
HWS for All System
Supply of Complete System: City Water Tank, Biopuremax, RO, CEDI